EXO-M - 140626 Meilishuo Alarm

Credit: namja1to4.
EXO-M | Overdose | Global Chinese Music Chart; pre-recorded 140510
I FINALLY GOT MY OVERDOSE ALBUMS! LORD THAT TOOK LIKE A MILLION YEARS BUT I GOT THE SEFETUS! I was hoping for Kris but I got Chen.
140601 A fan held up a Kris fan sign.
This broke my heart.  Only he knew what was about to happen.   Seeing his face like this I could feel how he was feeling.   I could feel the knot in his throat and in his chest.   It hurts to see him like this.  He knew that this was going to the be the last stage with his brothers.   The last time he would see his fans this way.  Kris you will always be in our hearts.  We will never let you go…  
Track Title: kris singing in background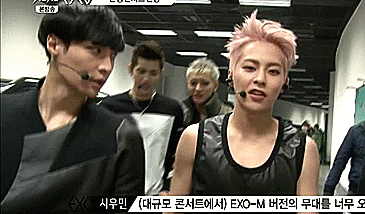 Kris being drunk singing in the background.
"Whatever you do or dream you can begin it. Boldness has genius and power and magic in it."
This quote was on the back side of Kris' postcards that I have.
Wu Yifan… I know these times are hard, but I believe in you and have faith in you.  I will be by your side and support you no matter what.  We may never know the real reasons, but I'm sure it was for the best.   You are loved from here to the galaxy and beyond…
EXO's number 61 on the pop ITUNES chart! Yehet!
Track Title: KRISTAGRAM GALAXY RAP KRIS-SIS
In honor of Kris reaching 1 million followers on instagram, my sis decided to do a rap.. as Kris… with his posts.